Stronchullin Farm, Blairmore, By Dunoon, PA23 8TP
Telephone: 01369 810289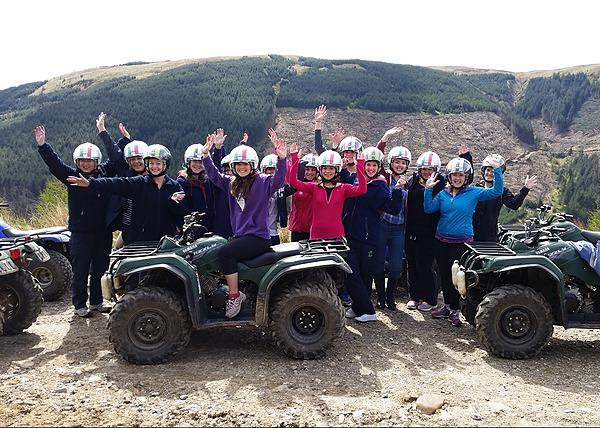 Group & Corporate Activity Days Out
Quadmania is perfect for that special group or corporate day out at excellent value. We can offer one, or a combination of our activities, or even provide a bespoke multi-activity package to suit your exact requirements. We will manage the whole day for you including icebreaker, your activity sessions and all refreshments and meals. Contact us for a discussion on your requirements. The most popular group activities are listed below but we also offer gorge walking, kayaking and high ropes courses.
Ice breaker
One of our favourite icebreakers is "the leaky pipe". The challenge is to fill a suspended pipe, full of holes, with water until an object inside floats out. The fun part is covering the holes with the body parts of your team members (who can be blindfolded!) to prevent water leakage. Complete chaos, much laughter and a fair degree of wetness are guaranteed.
Clay shooting
Under the expert tuition of our instructors, groups initially practice target shooting to get the feel of the guns and learn safety procedures. Teams then compete to hit clay targets appearing in many different flight zones on our purpose built ranges. Prizes can be provided
Archery
Archery is a great team leveler and you may be surprised to discover which members of your team excel at this sport. We can provide fun targets such as water balloons; or if you provide us with a digital image we will make you a bespoke target for the occasion! Prizes can be provided.
Quad Trekking
Our Quad Bike trails are superb, supplying your team with unique skills and thrills and sending them home invigorated and refreshed. Our range of high quality machines are the best on offer so you are guaranteed to have a quad bike that is suitable for each team member. Refreshments can be provided at a midway point on the trail if wished. Photography can be taken throughout your trek which provides a fantastic finale of a slide show showing back at base as the quad bikes return. Everyone had great fun reliving the experience all over again together!
Meals and refreshments
Without doubt, all the fresh air and activity will make your team ravenous and our food and drink will definitely fit the bill! For groups of 7 people and over, we can provide meals and refreshments at a time to suit you; bacon butties with orange juice are very popular on arrival. Our buffet lunch is delicious with hot home-made soup, filled baguettes and hoagies and a selection of savoury pastries. Or opt for our amazing mouthwatering barbecue with cajun chicken fillets, prime beefburgers, tiger tail prawns, garlic bread, potato wedges and salads.
"Just wanted to follow up on this by thanking yourself and the guys for a great day out on Saturday - I think I speak for everyone when I say we had a fantastic time!"